Bowflex TreadClimber TC20
Bowflex TreadClimber TC20 is one step up from the TC10.
This is the latest model of tread climbers introduced into the fitness equipment market.  It incorporates a ground breaking and innovative technology called "G.O. Coach" which is Goal Oriented Coach programming which lets you set your personal fitness goal and then keeps track of your workout schedule and performance to meet these goals.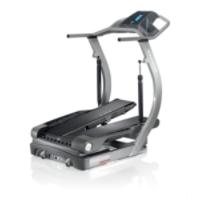 The Bowflex TreadClimber TC20 is not a budget piece of fitness equipment and the price which runs around $3299 may appear to be high but once you look at what you get for your money, you'll quickly become a fan.
Obviously it is not cheap, but with latest cutting edge technologies like G.O. Coach, noise reduction system and a lot of other high tech features which make Bowflex TreadClimber TC20 arguably the best in the market so the price is appropriate.

Bowflex TreadClimber TC20
We will now present a brief summary of the features available on Bowflex TreadClimber TC20 to give you an overview of what this product really is like and what it can bring to your workouts and fitness goals.
Bowflex TreadClimber TC20 Highlights
• State of the art TreadClimber design
• Offers compact portability
• 3 in 1 workout capability
• Superb LED display with all important information catered
• Solid Frame supporting 300 pounds of user weight
• Variable and adjustable Speed range
• 12 levels of adjustable resistance for personalizing your workouts
• Cutting edge G. O. Coach technology
• Chest Straps (Wireless) to monitor your heart rate
• Climb indicator
• Accessory tray in the console to hold all your workout goodies like a bottle of fresh cool water, sweat towel or favorite MP3 player
• Separate profile storage and maintenance for highly personalized fitness routines
•15 different workout functions
• Comprehensive warranty of 3 years covering motors, electronics and hydraulics
• Customer average rating of 95.7/100
Bowflex TreadClimber TC20 offers G. O. Coach Console which is an innovative program that lets you set your personal goals and then tracks your progress and performance to compare it with your set goals as well as other users using the machine.
It is an interactive program that motivates you to achieve greater fitness and to fulfill or even exceed your goals by comparing with your own past performance and that of the others. G.O. Coach also offers 9 Challenge Landmark Workout options in addition to the standard workout function available on all the TreadClimbers.
These additional landmarks work on achievement and reward basis. Three of the landmarks are offered in the beginning but you earn the rest of the six only by completing the goals set by these three landmarks. This is absolutely innovative and very motivating style that improves the commitment of the users to their health on competitive basis.
Bowflex TreadClimber TC20 also lets you maintain your personal profile on it. If there are several users using the TreadClimber TC20 then all of them can have a personal profile stored on it with their personal goals and workout history. So when you start your workout session you choose your profile and the machine will conform to your personalized settings like resistance levels and workout functions.
Bowflex TreadClimber TC20 offers an extremely high level of adjust-ability and personalization. There are 12 different levels of resistance ranging from 1 to 12 to offer you workouts from beginner to athlete level. It also offers 15 different workout functions which are more than any other TreadClimber currently in the market.
Bowflex TreadClimber TC20 is built with efficient and practical design. When working on higher resistance levels, other machines like indoor fitness bikes or stair climbers use a higher electrical power. But this is not the case with TC20. It only uses the power from your feet to adjust the resistance and therefore there is no extra cost of running on higher resistance levels.
Bowflex TreadClimber TC20 helps to reduce the stress on your muscles and joints with a high-efficiency, low impact design. This lets you achieve higher results with much less workout strain.  It also lets you stay in workout zone without by monitoring your heart rate with wireless chest straps that is included.
The excellent warranty from Bowflex covers all parts from motor to hydraulics for a 3 year period. What is more is that you get a six week money back guarantee on Bowflex TreadClimber TC20. This shows you the high level of trust that this machine offers you.
While the Bowflex TreadClimber TC20 may have a higher price tag than a scaled down budget treadmill, you'll find that it's well worth its price.
To find out more just click –> Bowflex TreadClimber TC20