Bowflex TreadClimber TC10
Bowflex TreadClimber TC10 is a hybrid combination of treadmill and stair climber.  It combines the benefits of treadmill, stair climber and elliptical and you can have it all for price of one.
It has a state of the art 3 in 1 design to make your workouts more challenging with only the footprint of one piece of fitness equipment.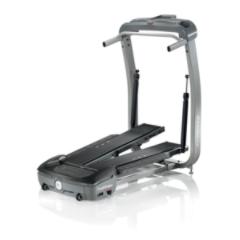 We will now have a brief look at some of the popular features of the Bowflex TreadClimber TC10 Tread Climber
• It has 12 levels of resistance
• 4 challenging workout functions
• Easy to adjust speed adjustment from half mile per hour to four mile per hour
• Bright and easy to read LED display with four readouts
• Chest strap (Wireless) for heart rate display and functionality
• Climb indicator
• Accessories tray to keep all your workout goodies close at hand
• 2 years complete all round warranty covering motor, parts, electronics and hydraulics
• 6 weeks 100% money back guarantee
• 24/7 customer support service
It is now easy to see why Bowflex TreadClimber TC10 is a best-selling product in its category.  While it may not have all the bells and whistles of the
Bowflex TreadClimber TC20
,it will give you a workout that rivals a treadmill, stepper or climber and is comprehensive enough for even the most discerning fitness enthusiast.
Its impressive design has successfully managed to create the effect that a treadmill offers with an additional opportunity to benefit from the aspects that health enthusiasts love in the stair climbers or the ellipticals. You will not feel the need to jog or run again as you can achieve your desired results with walking.
Bowflex TreadClimber TC10 unique and innovative design introduces dual platforms that rise separately instead of one big inclined slab which works as one unit. This unique design of combining movements of an elliptical trainer,  stair climber and treadmill will allow you to get a more complete workout in less time.
When using the Bowflex TreadClimber TC10 you can either choose to workout with 3 in 1 design and take advantage of the best of all three combined or you can convert your Bowflex TreadClimber TC10 to stair climber or simple treadmill with just a push of button on quick controls menu.
In the same manner, you can adjust the hydraulic intensity or resistance level from 1 to 12 according to your workout schedule. Further, it does not need any more power when running on higher resistance levels because it is using the power of your feet and not the electrical power. This ensures high mechanical efficiency and low power consumption.
Bowflex TreadClimber TC10 provides you an efficient, low-impact cardio workout. It has adjustable speed variations from as slow as 0.5 mph to a  high of 4 mph.  While 4 mph may not sound like much, you must remember that it's not a 4 mph walking moving but 4 mph as you move up and down so it is quite impressive.
Instead of incline trainers that have a big single deck inclined at a certain level, Bowflex TreadClimber TC10 has dual treadles that are independent and move up and down separately in the manner that you walk. It results in lower impact time as compared to stair climber or treadmills and therefore you'll have less stress on your lower back and joints.
The comparison of calories burnt at an average speed of 3 mph on treadmill and Bowflex TreadClimber TC10 reveals a lot.
On a treadmill, half hour jog at 3 mph for half an hour duration will burn only 165 calories whereas on Bowflex TreadClimber TC10 it will burn over 600 calories for same time and speed.
This difference speaks of highly efficient design of the treadclimber TC10.
Another advantage of Bowflex TreadClimber TC10 in comparison to the treadmill is that a treadmill usually occupies a fairly large space. It is normally around 5 feet in length. On the other hand, Bowflex TreadClimber TC10 is only around 4 feet in length.
Its greater weight to volume ratio makes it more stable as well.
Bowflex TreadClimber TC10 comes with an ability to keep a complete track of your progress. This often provides great motivation in working out with a greater level of commitment and results in greater fitness.
It also lets you stay in your optimal fat burning range with a built in wireless HR (Heart Rate) monitor. There is an LED provided in the front to keep you posted with all important pieces of information that you need to know about your workouts like speed, time, calories burnt, distance covered, heart rate etc. It also has a unique climb indicator function which notifies you after you have completed a 100 feet of elevation.
Bowflex TreadClimber TC10 comes with a superb two year all round warranty which covers everything from motor to hydraulics. It has 6 weeks total money back guarantee which shows the high level of trust its manufacturer has in this product. This is also a number one best selling product so it is highly recommended for your workout sessions.
For more information just visit –> Bowflex Treadclimber TC10